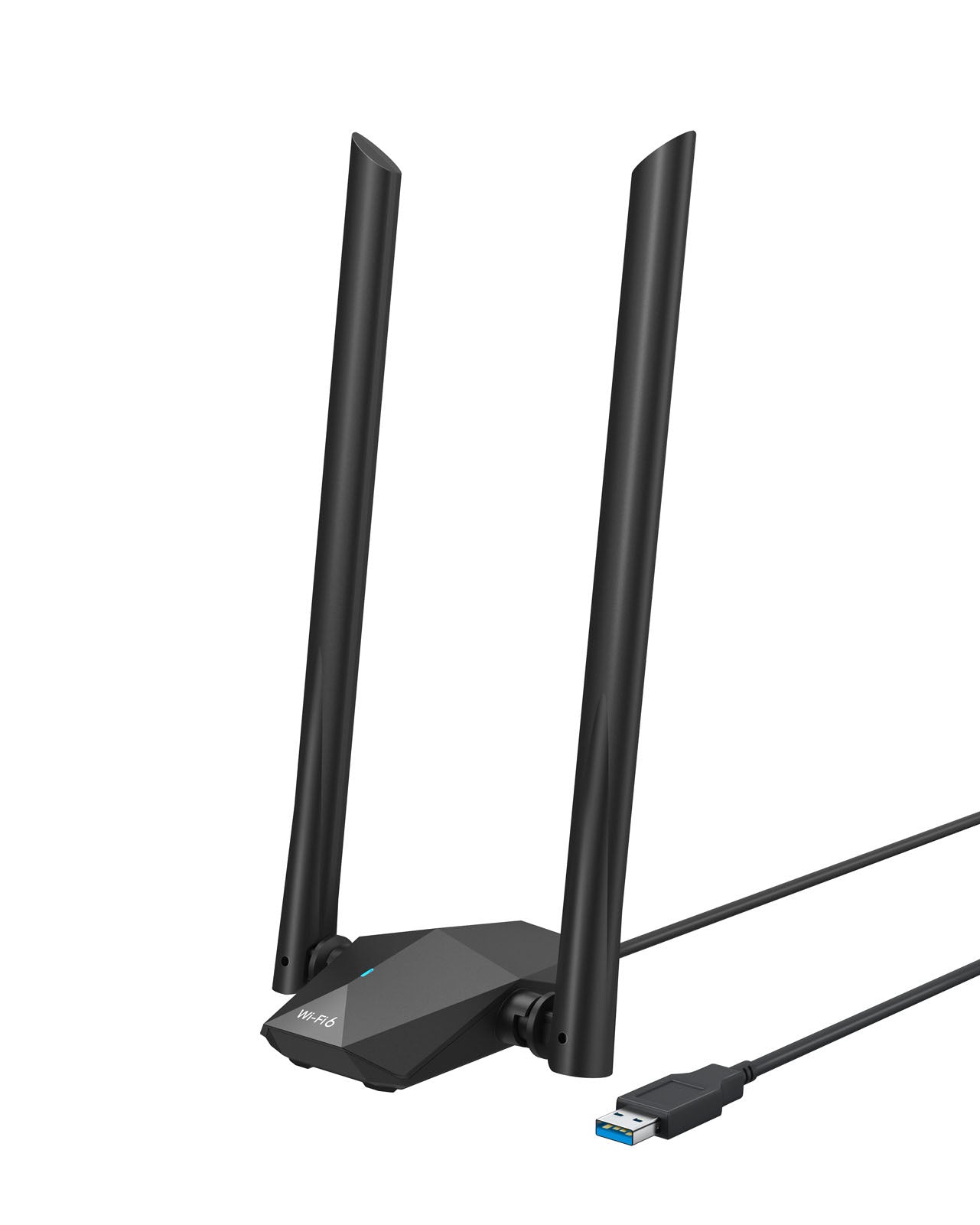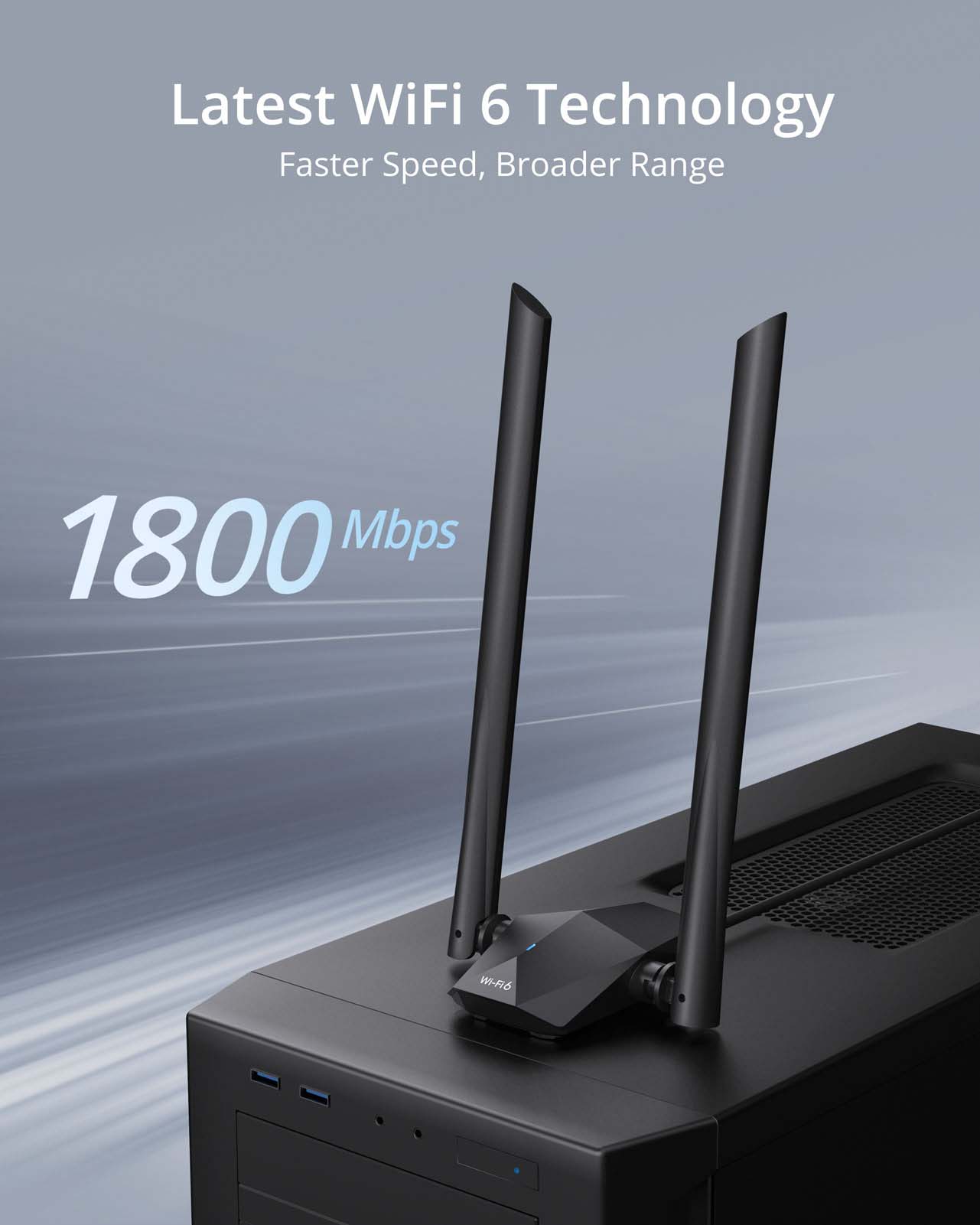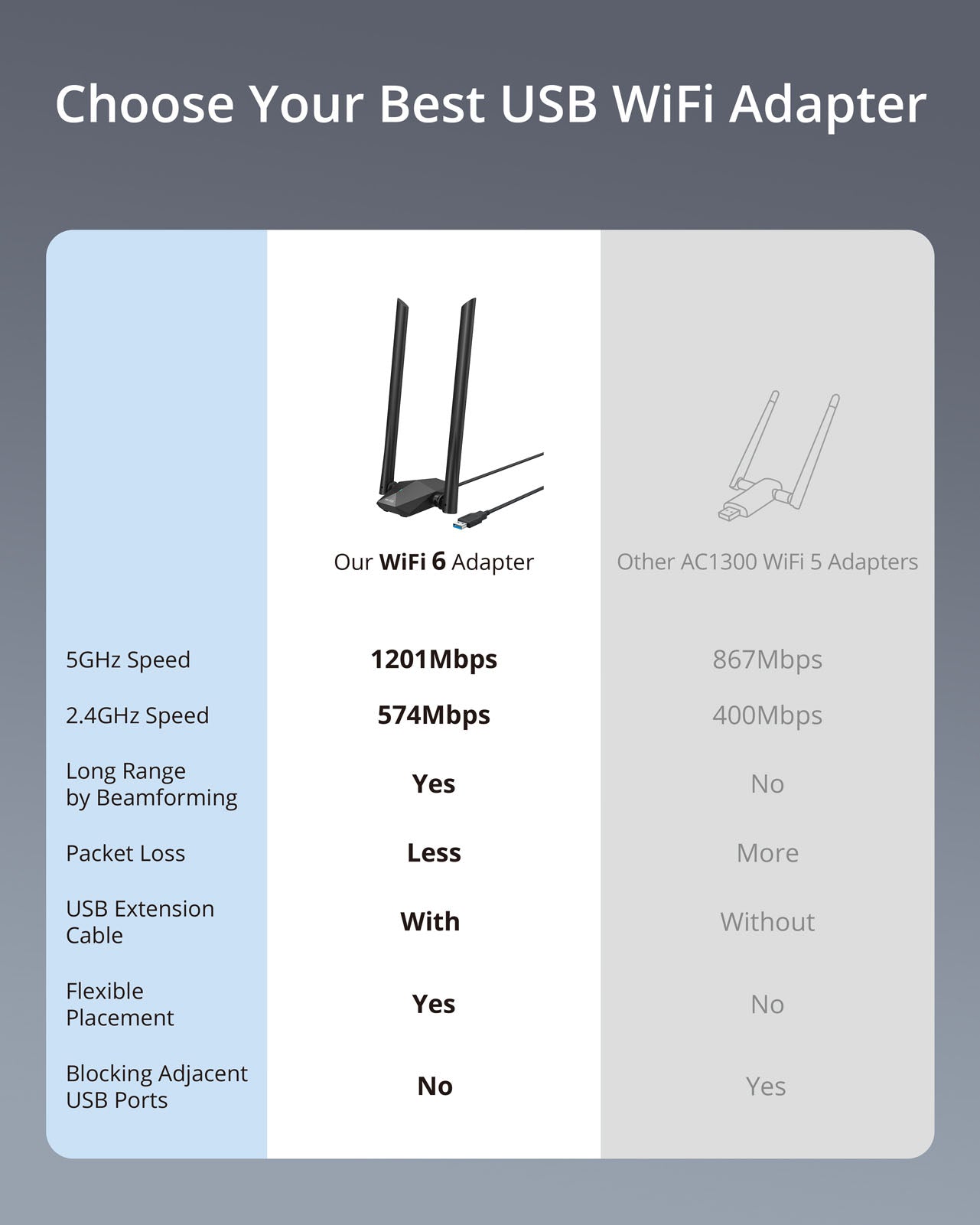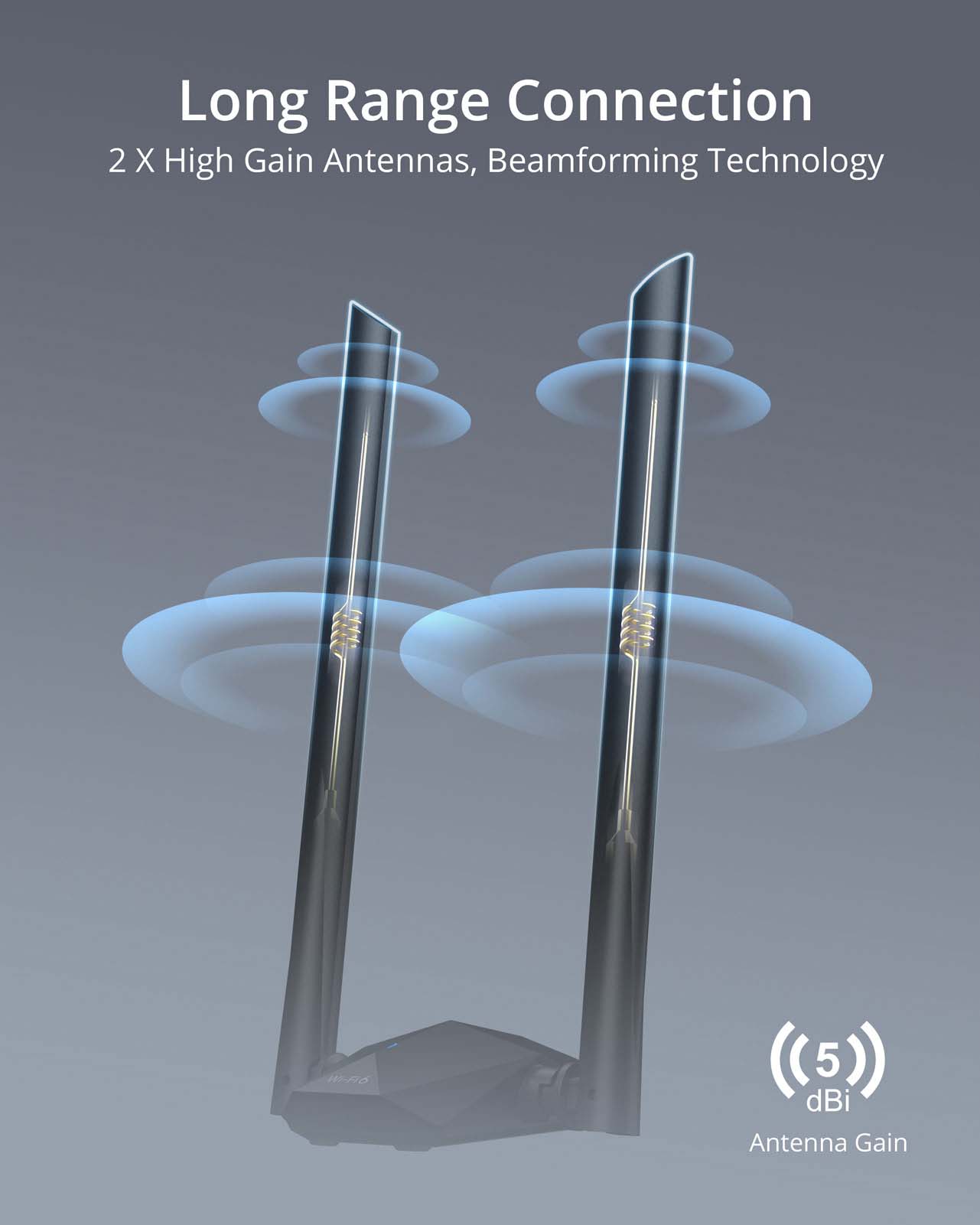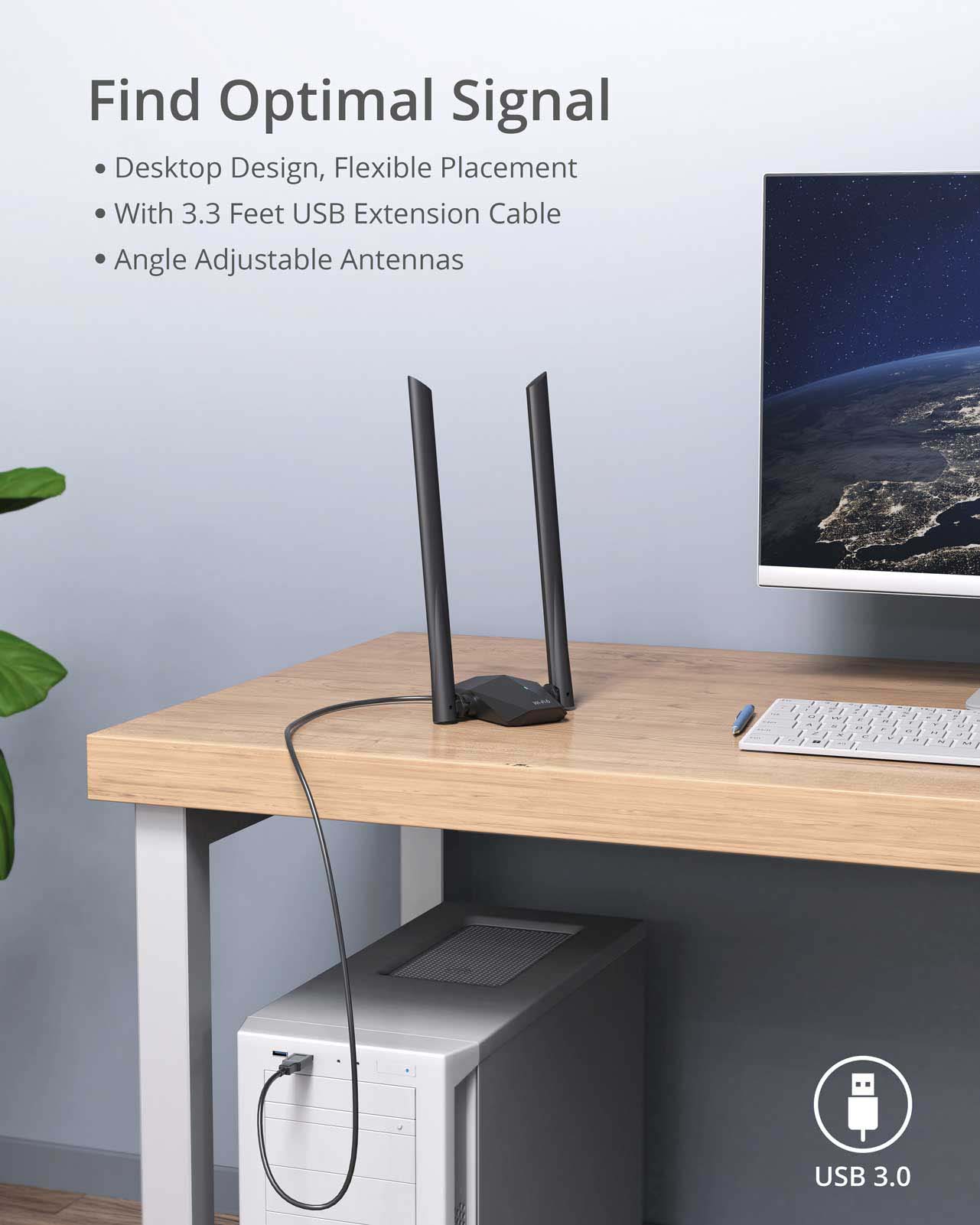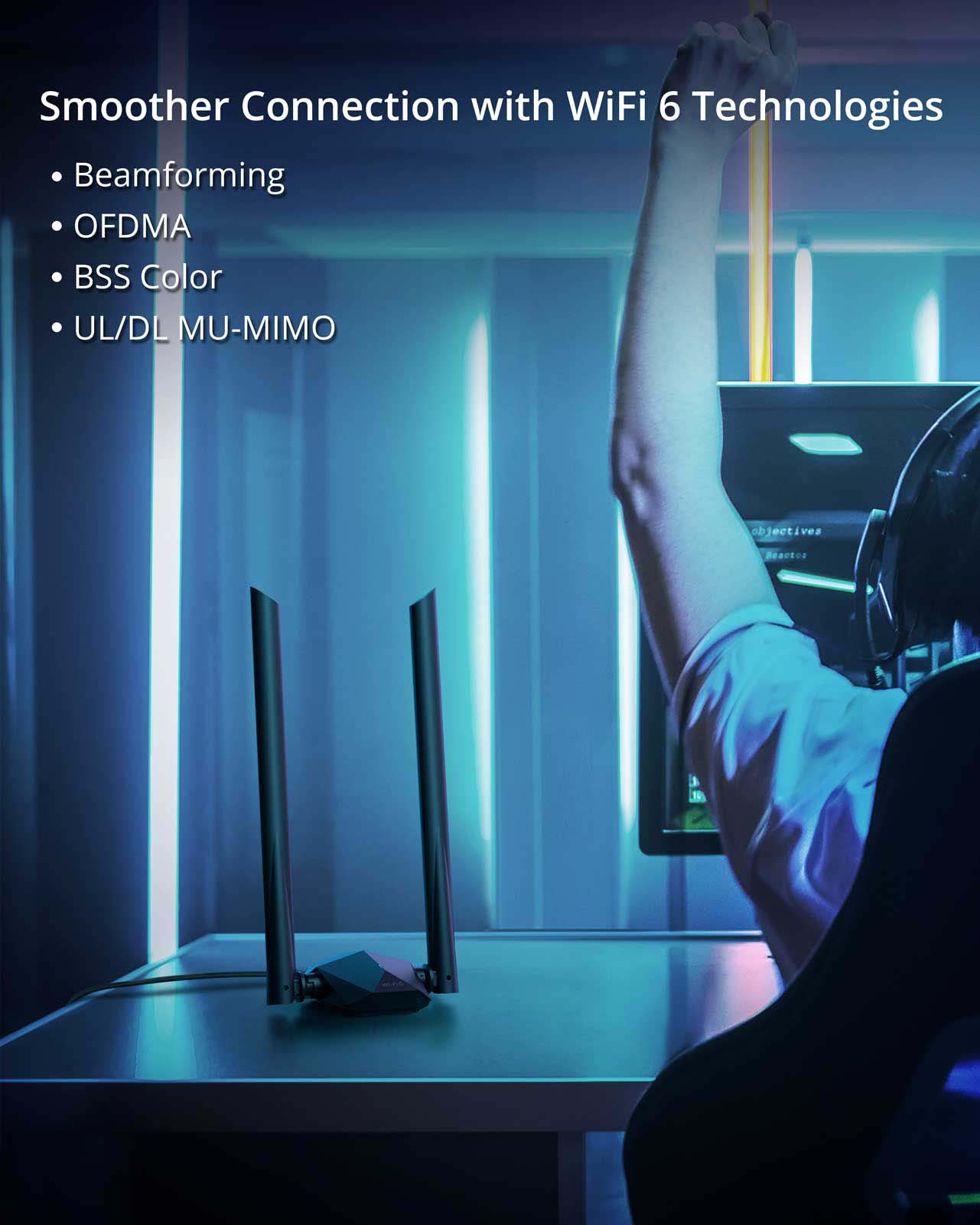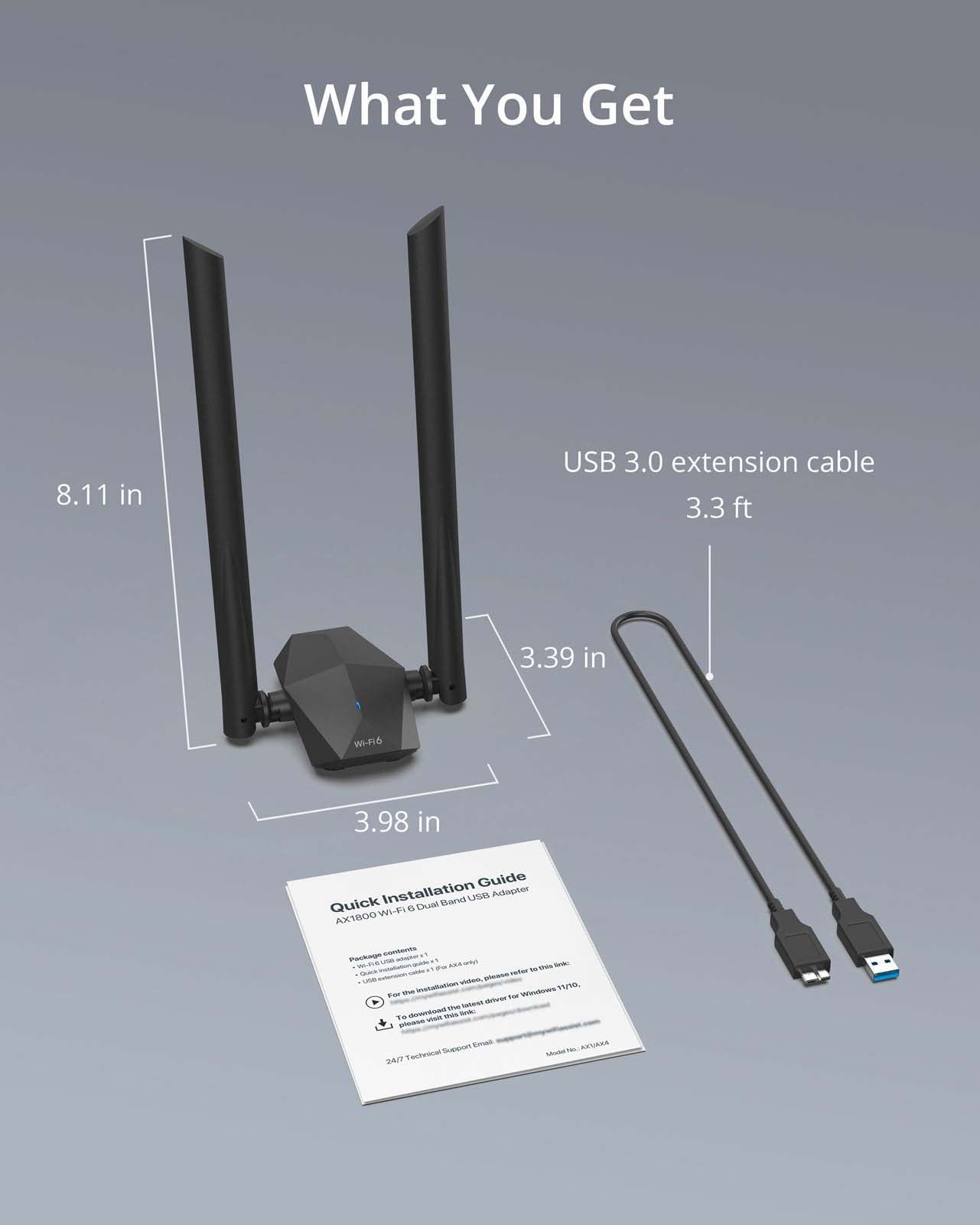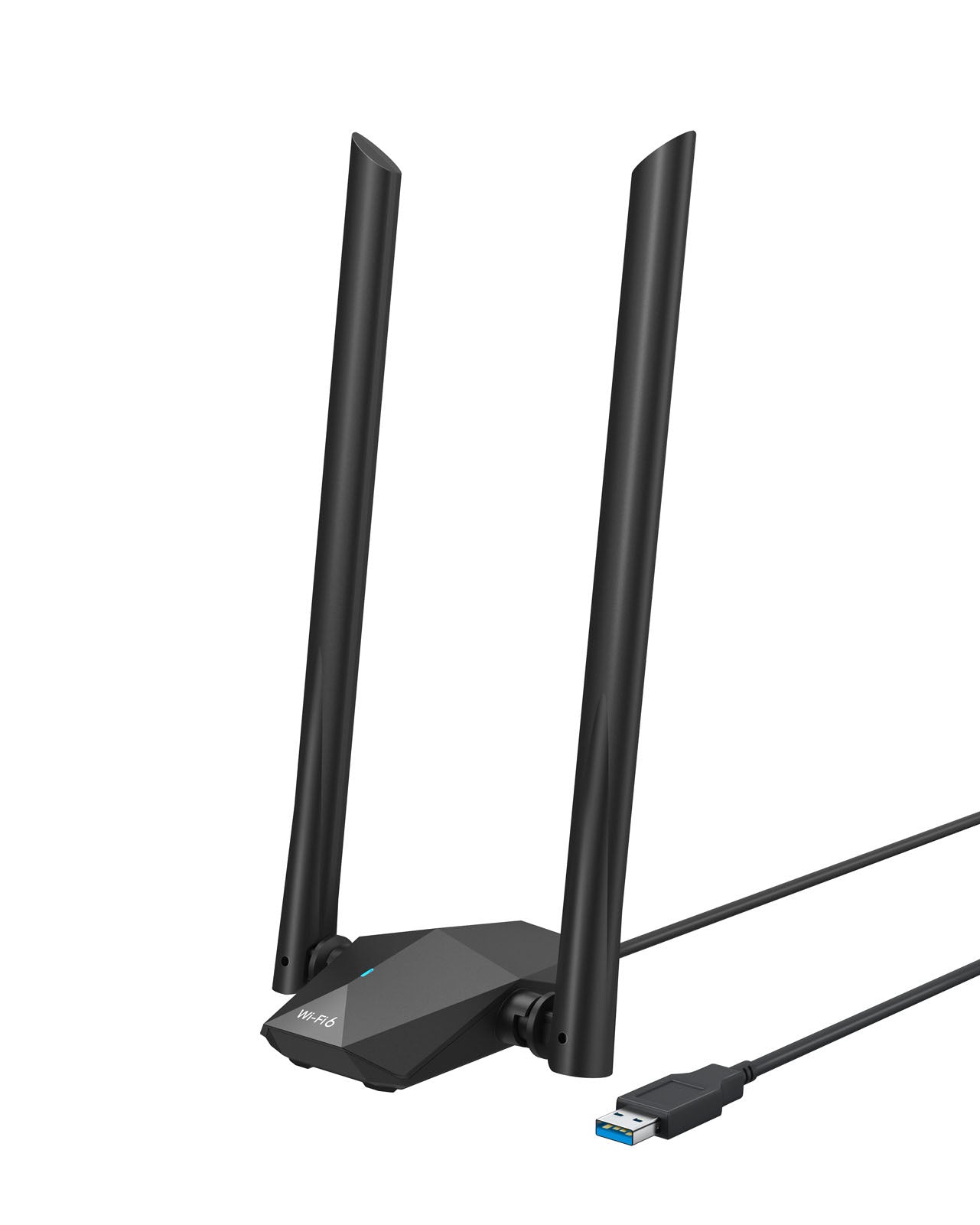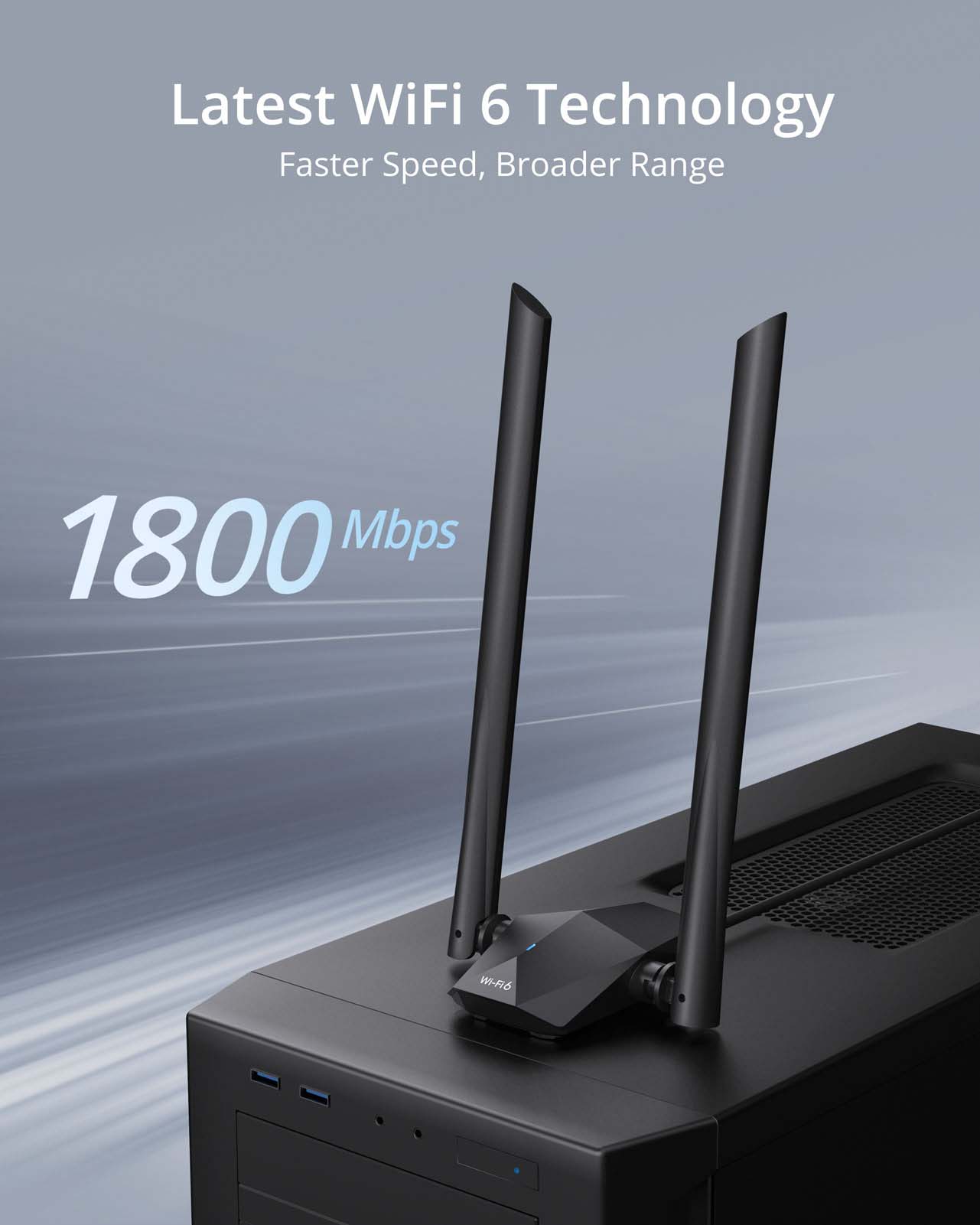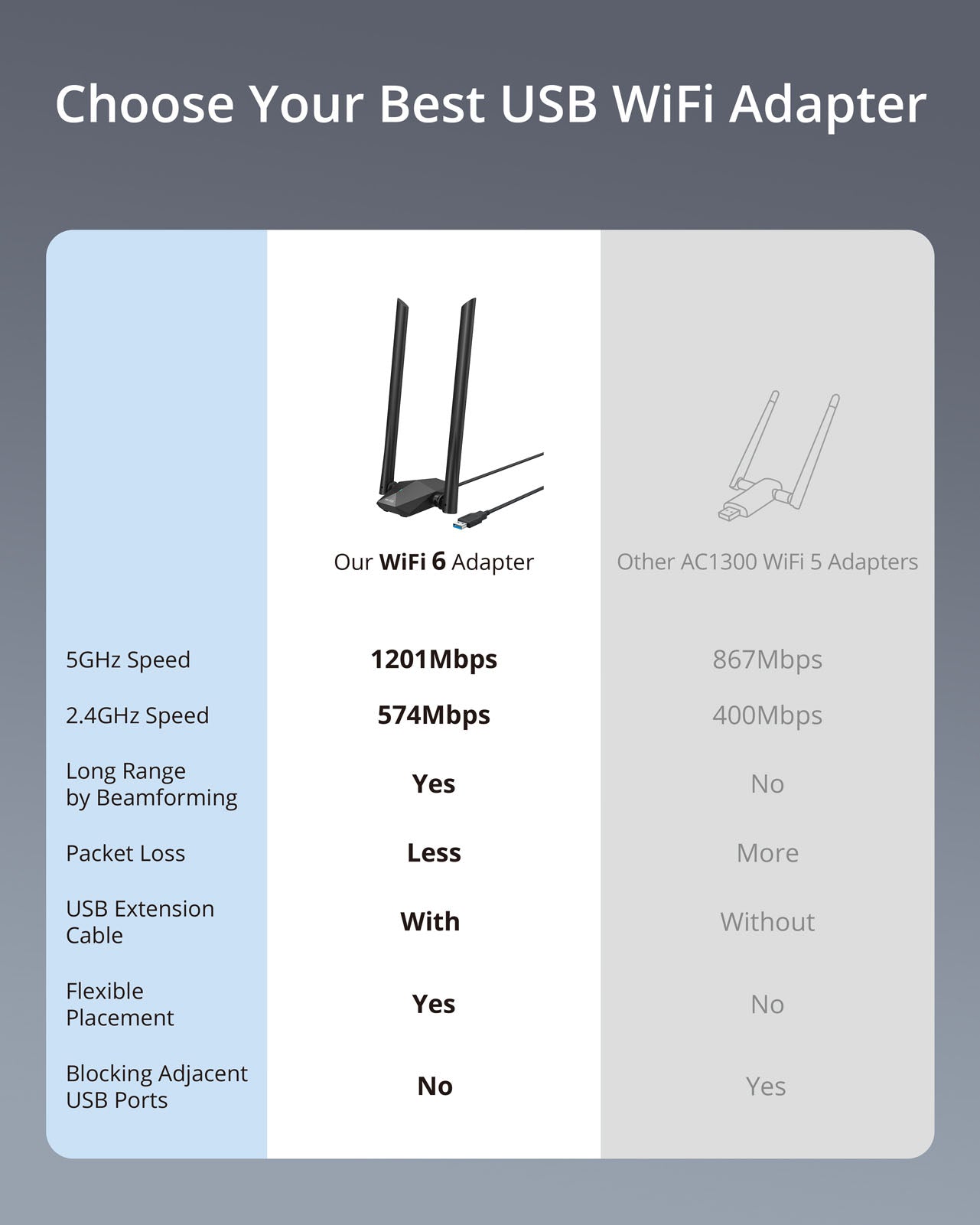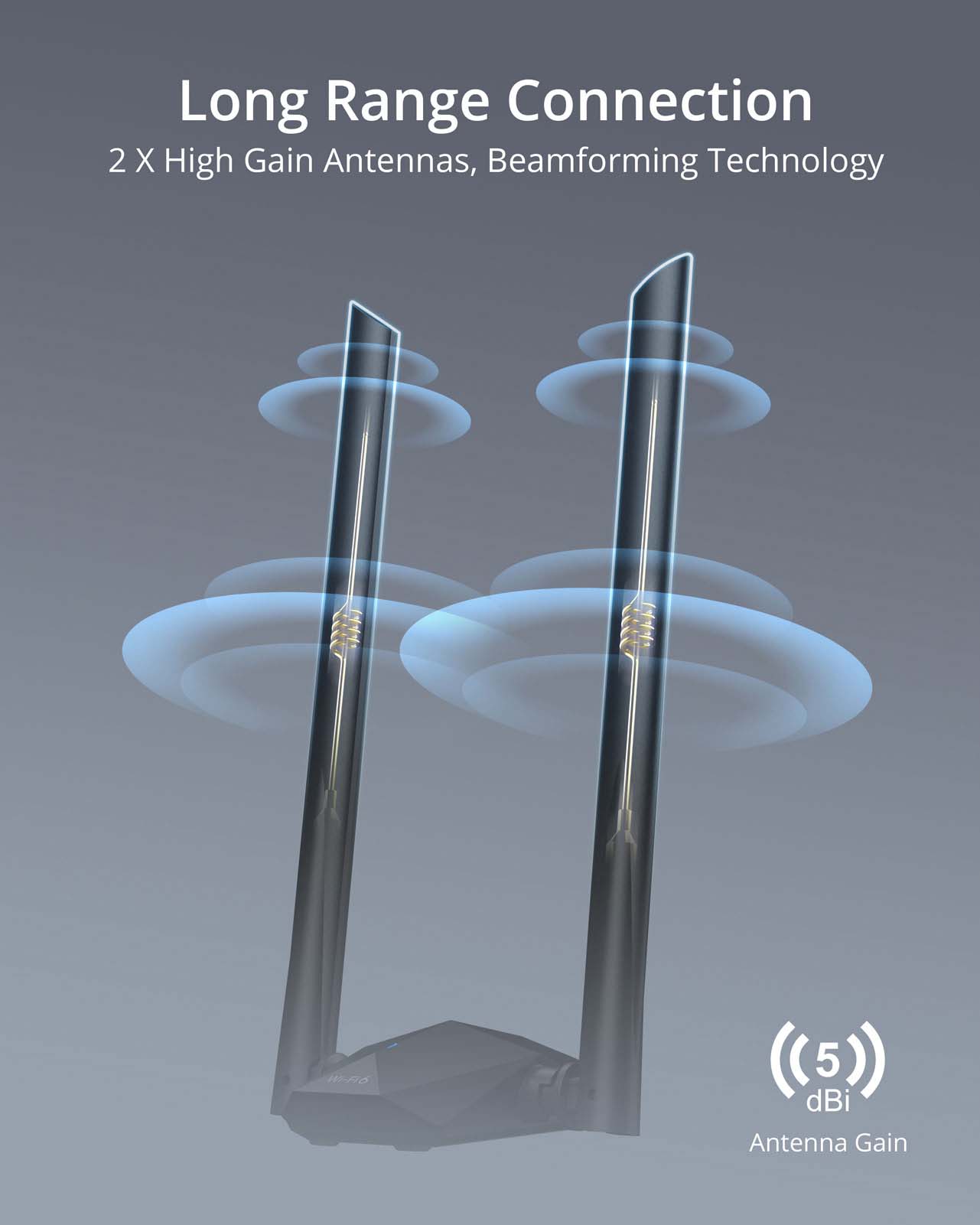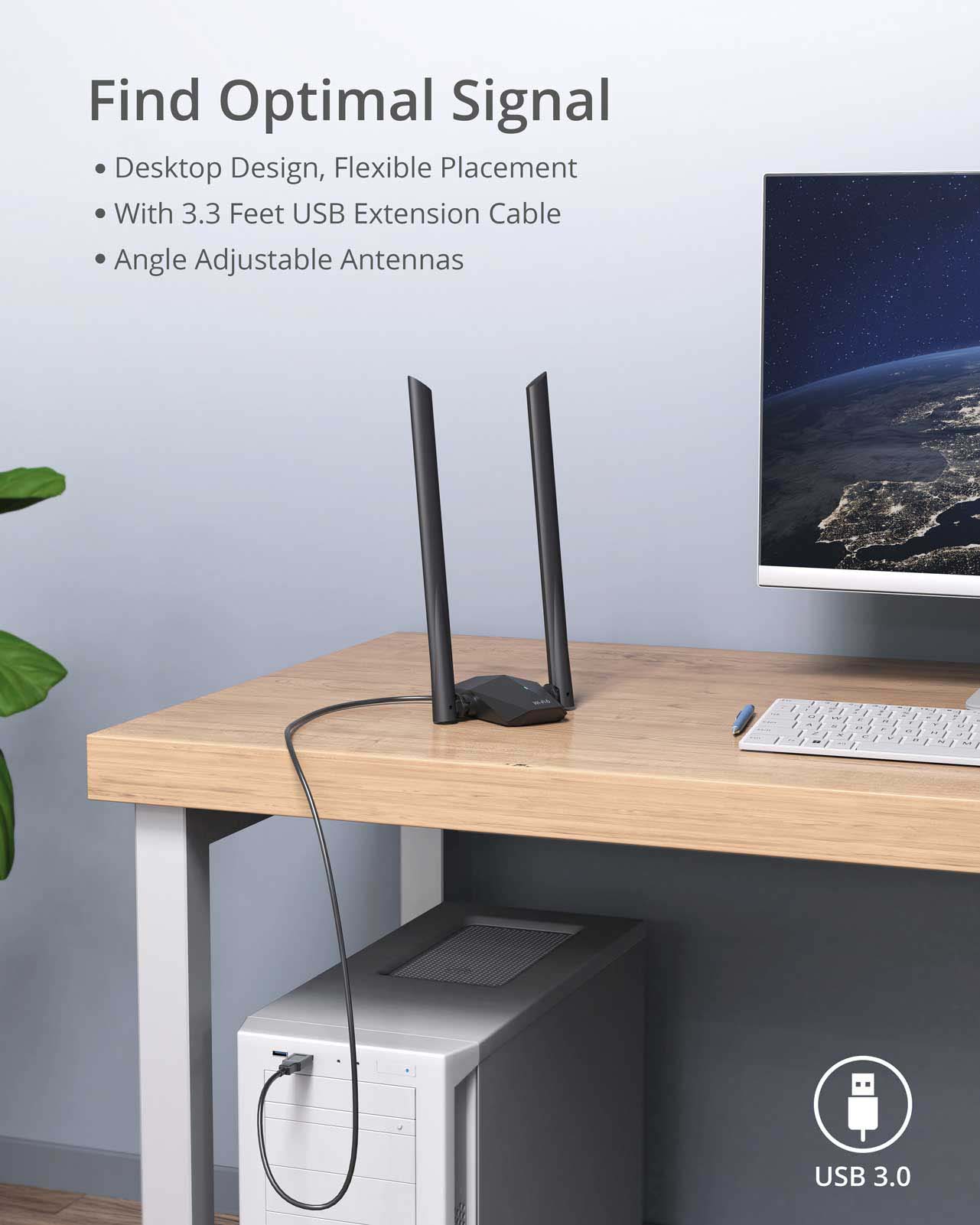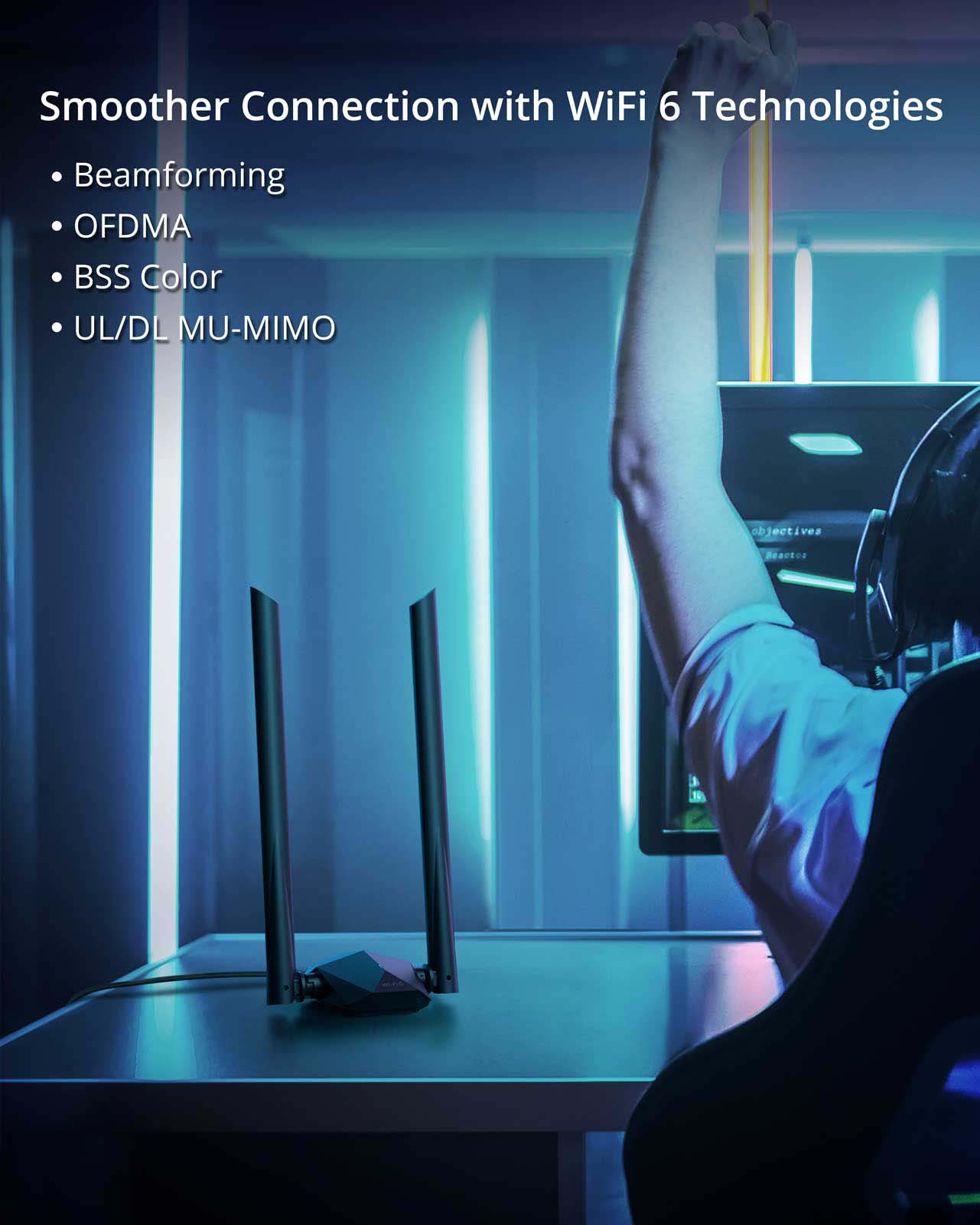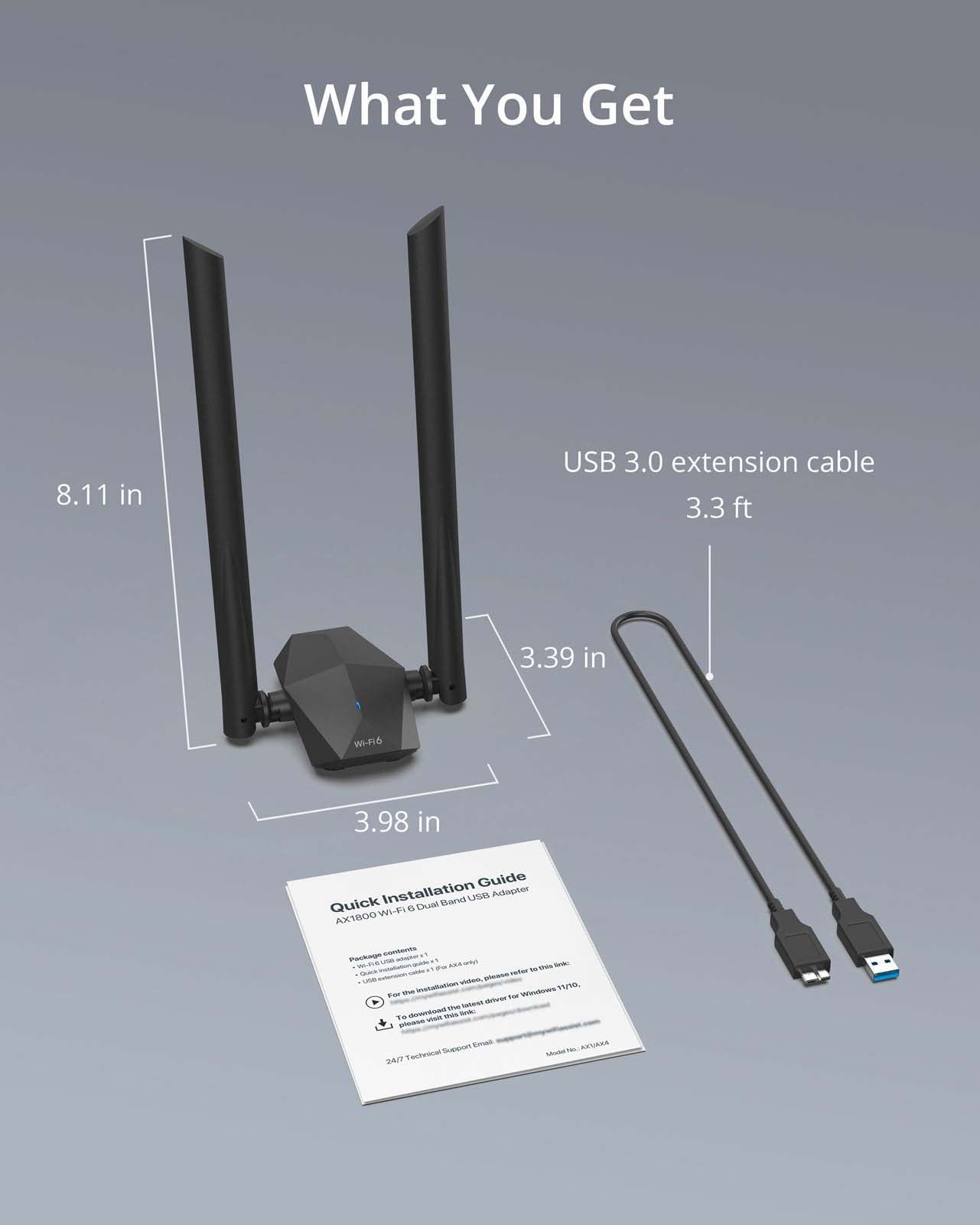 BrosTrend USB WiFi 6 Adapter AX1800, Long Range USB WiFi Adapter for PC Laptop Desktop, 5GHz/1201Mbps + 2.4GHz/574Mbps, Wireless USB WiFi Dongle with 2X High Gain Wi-Fi Antennas, for Windows 11 / 10 ONLY
·Speed up PC WiFi
:
The latest 1800Mbps 
USB WiFi adapter 
delivers wireless speeds that are 38% faster than any AC1300 
USB WiFi adapters
. Supports Windows 11 / 10 ONLY. For optimal performance, please download latest driver from website included in package. Windows 8/7/Vista/XP NOT supported
·Upgrade Dual-band Speeds
:
Get 1201Mbps on 5GHz or 574Mbps on 2.4GHz on desktop, laptop PC with this 
USB WiFi adapter
. It meets all your needs for HD streaming, online gaming and video calls
·Broader Range
:
2 pieces of 
5dBi 
high gain antennas ensure stronger signal reception through multiple walls and floors. Beamforming technology delivers targeted signals and reliable connections no matter where your PC is located
·Find Optimal Signal
:
Comes with desktop design and a 3.3-feet USB 3.0 extension cable. Flexibly place your 
USB WiFi adapter
 in a spot with optimal signal reception
·Ultra-smooth Experience
:
Say goodbye to buffering with this 
USB WiFi adapter
! OFDMA, UL/DL MU-MIMO technologies enable the most efficient connection on PC
Level up PC WiFi
The AX1800 USB WiFi 6 adapter upgrades your PC for an overall better WiFi experience, boosting ultra-fast dual band speeds (1201Mbps on 5GHz or 574 Mbps on 2.4GHz band). 2 X high gain antennas with Beamforming technology deliver a consistently strong wireless signal through long range. Featured WiFi 6 technologies, such as OFDMA, UL/DL MU-MIMO, 1024-QAM, and WPA3, provide a more reliable and secure connection so you can stream, game, and work with confidence on your PC. Tap into the power of WiFi 6 for faster speed, broader range, and lower latency than WiFi 5, such as AC1300 or AC1900, etc.
Stronger Signal Reception
2 integrated power amplifiers boost dual-band WiFi ranges simultaneously, especially the 5GHz WiFi band. 5GHz WiFi signals penetrate multiple walls and floors throughout your house with no signal loss and speed compromise.
Pick Up Optimal WiFi
With 180° and 90° rotations, 2 pieces of 5dBi high gain antennas deliver ultra-reliable long-distance WiFi range. WiFi will not be an issue whether your PC is in the basement or attic.
Next-Gen WPA3 Encryption
Robust password protection secures personal data even when your PC is connected to a public network. You can fully enjoy WiFi 6 speeds on your desktop and laptop PC with added peace of mind.
Faster USB 3.0 Port
The USB 3.0 port works up to 10 times faster than the USB 2.0 port. Besides, you can connect this WiFi 6 USB adapter to your PC via its slim USB 3.0 cable, without blocking any adjacent USB ports on your PC.
Universal Compatibility
Compatible with any desktop, laptop PC with Windows 10 OS. It takes your PC WiFi to the next level while being backward compatible with WiFi routers of 802.11 ac/n. Breathe new life into old PCs with this budget upgrade.
Step 1
Download the latest driver from the website included in the product package. Install the driver and restart your PC.
Step 2
Plug the USB WiFi adapter into a USB 3.0 port of your PC.
Step 3
Connect to your WiFi network. Enjoy fast WiFi!
Wi-Fi 6, WPA 3
In addition to the beauty of the design, the stability of the signal, and the speed of the Internet this is due to the use of Wi-Fi 6 technology in this adapter, This device contains the latest encryption technology WPA 3
Which all network devices must contain at the present time due to the current cyber threats and that all measures must be taken to deter them, this encryption (WPA 3) is considered the latest generation of encryption algorithms for wireless networks, which are very difficult to penetrate, I highly recommend this device for more network security.
Fast, and great in suboptimal wifi environments
I first tried out the AX1800 on a little Chuwi LarkBox desktop. With its built-in wireless AC, I can only get 185 Mbps from Xfinity, though I have a 600 Mbps plan. I installed the Windows 10 driver from the brostrend.com site (Support-->Download-->AX4-->Download-->Driver), and it installed quickly. (Windows will attempt to block the driver setup; just click on Run Anyway.) I then disabled the built-in wireless AC through Device Manager, and linked the AX1800 to the Xfinity router. The result? 575 Mbps (see photo). The highest I have obtained is 625 Mbps. I was delighted.
Next, I decided to put the AX1800 in a far tougher environment. I used an ancient (c. 2006) Lenovo Thinkpad T61. With its built-in wireless N I got 122 Mbps. I installed the AX1800 driver, disabled the built-in wireless N, and linked to the Xfinity router. The result was 203 Mbps. A limiting factor was the USB 2.0 on such an old machine, but still a nice improvement over the built-in wifi.
Next, I wanted to really push things by taking this old machine outside with the AX1800. The Xfinity router is on the second floor of the home, so in the backyard on the patio the computer is downstairs and 50 feet from the router. There, the AX1800 could still do 70 Mbps, but when I disconnected it and re-enabled the internal wireless N it could only do 14 Mbps.
When plugging the provided cable into the AX1800 base, be sure and look to see that the correct plug end on the cord goes into the base. At first glance the cable looks like it is USB on both ends, but it isn't. Also, BrosTrend does not have Windows 11 drivers on their website yet, but says they are coming. If you plug the AX1800 into a Win 11 machine, it won't show up in Device Manager.
All in all, and especially if you are in a suboptimal reception environment, this is a great product. I recommend it highly.